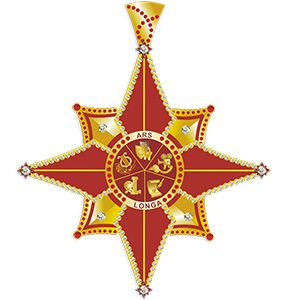 Founder of Al-Khalifa Business School, (H.E.) Prof. Sir Manuel Freire-Garabal y Núñez has been recently appointed by the Russian Government through the Worldwide Charitable Alliance "Peacemaker" with the Grand Cross of First Class of Culture and Arts "Art Ruby Star" as the number 29 awarded with this prestigious distinction.
Among the most outstanding winners of the first-class degree are Fidel Alejandro Castro Rus, President of the Republic of Cuba; Sheikh Hamada ibn Isa Al Khalifa, King of Bahrain; Mikhail Gorbachev, President of the USSR or Emomali Sharipovich Rakhmonov, President of Tajikistan. As well as second and third-class personalities of art and culture such as Alek Baldwin, American actor; Owen Wilson, American actor or Rutger Hauer, Dutch actor.
In his career, Prof. Sir Manuel Freire-Garabal y Núñez LLB., MBA., Ph.D. H., worked as an Associate and Visitor Professor of many Universities in Asia and writing contributions as an expert in Higher Education at Universities like Harvard University, Yale University, or the University of California-Berkeley and media like The Times of India and The Economic Times, MSNBC about Universities and Business Education.
This decoration comes from long tradition development cultural and educational collaborations between the Middle East and Russia, with disruptive academic programs that aim both regions to interact in the economy, business and administration for the creation of a complex network that is actually making an impact and influence worldwide.
The formal event of appointment will be held in the beginning of 2020.
Further information: Worldwide Charitable Alliance "Peacemaker"